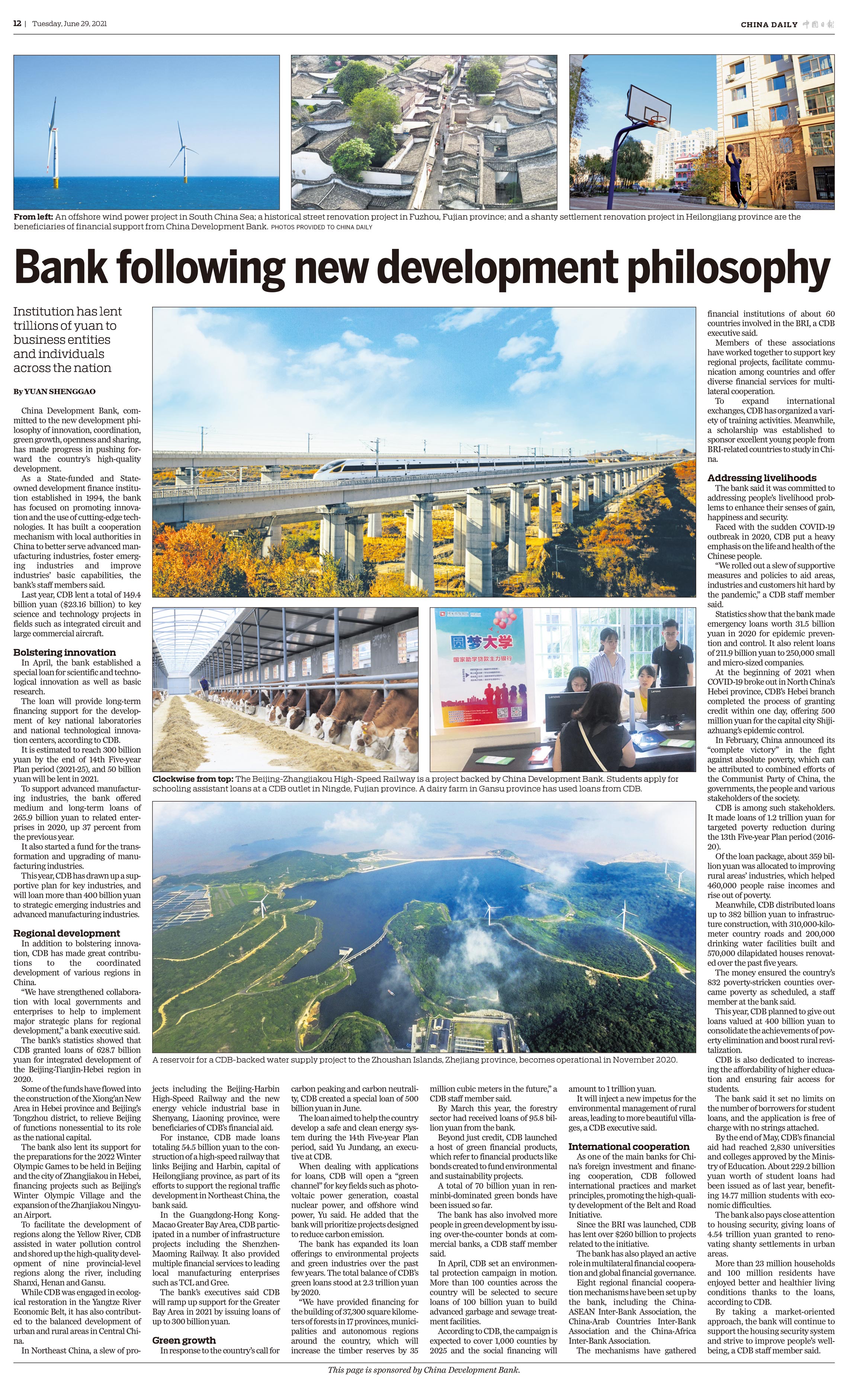 China Development Bank, committed to the new development philosophy of innovation, coordination, green growth, openness and sharing, has made progress in pushing forward the country's high-quality development.
As a State-funded and State-owned development financial institution established in 1994, the bank has focused on promoting innovation and the use of cutting-edge technologies. It has built a cooperation mechanism with local authorities in China to better serve advanced manufacturing industries, foster emerging industries and improve industries' basic capabilities, a representative of the bank said.
Last year, CDB lent a total of 149.4 billion yuan ($23.08 billion) to key science and technology projects in fields such as integrated circuits and large commercial aircraft.
Bolstering innovation
In April, the bank established a special loan for scientific and technological innovation as well as basic research.
The loan will provide long-term financing support for the development of key national laboratories and national technological innovation centers, according to CDB.
It is estimated to reach 300 billion yuan by the end of 14th Five-Year Plan period (2021-25), and 50 billion yuan will be lent in 2021 alone.
To support advanced manufacturing industries, the bank offered medium and long-term loans of 265.9 billion yuan to related enterprises in 2020, up 37 percent from the previous year.
It also started a fund for the transformation and upgrading of manufacturing industries.
This year, CDB has drawn up a supportive plan for key industries, and will loan more than 400 billion yuan to strategic emerging industries and advanced manufacturing industries.
Regional growth
In addition to bolstering innovation, CDB has made great contributions to the coordinated growth of various regions in China.
"We have strengthened collaboration with local governments and enterprises to help to implement major strategic plans for regional development," a bank executive said.
The bank's statistics showed that CDB granted loans of 628.7 billion yuan toward the integrated development of the Beijing-Tianjin-Hebei region in 2020.
Some of the funds have flowed into the construction of the Xiong'an New Area in Hebei province and Beijing's Tongzhou district, to relieve Beijing of functions nonessential to its role as the national capital.
The bank has also lent its support to preparations for the 2022 Winter Olympic Games to be held in Beijing and the city of Zhangjiakou in Hebei, financing projects such as Beijing's Winter Olympic Village and the expansion of the Zhangjiakou Ningyuan Airport.
To facilitate the development of regions along the Yellow River, CDB assisted in water pollution control and shored up the high-quality development of nine provincial-level regions along the river, including Shanxi, Henan and Gansu.
While CDB was engaged in ecological restoration in the Yangtze River Economic Belt, it has also contributed to the balanced development of urban and rural areas in Central China.
In Northeast China, a slew of projects including the Beijing-Harbin high-speed railway and the new energy vehicle industrial base in Shenyang, Liaoning province, were beneficiaries of CDB's financial aid.
For instance, CDB made loans totaling 54.5 billion yuan to the construction of a high-speed railway that links Beijing and Harbin, capital of Heilongjiang province, as part of its efforts to support the regional transport development in Northeast China, the bank said.
In the Guangdong-Hong Kong-Macao Greater Bay Area, CDB participated in a number of infrastructure projects including the Shenzhen-Maoming railway. It also provided multiple financial services to leading local manufacturing enterprises such as TCL and Gree.
The bank's executives said CDB will ramp up support for the Bay Area in 2021 by issuing loans of up to 300 billion yuan.
Green growth
In response to the country's call for carbon peaking and carbon neutrality, CDB created a special loan of 500 billion yuan in June.
The loan aims to help the country develop a safe and clean energy system during the 14th Five-Year Plan period, said Yu Jundang, an executive at CDB.
When dealing with applications for loans, CDB will open a "green channel" for key fields such as photovoltaic power generation, coastal nuclear power and offshore wind power, Yu said. He added that the bank will prioritize projects designed to reduce carbon emissions.
The bank has expanded its loan offerings to environmental projects and green industries over the past few years. The total balance of CDB's green loans stood at 2.3 trillion yuan as of 2020.
"We have provided financing for the creation of 37,300 square kilometers of forests in 17 provinces, municipalities and autonomous regions around the country, which will increase timber reserves by 35 million cubic meters in the future," a CDB representative said.
By March this year, the forestry sector had received loans of 95.8 billion yuan from the bank.
Beyond just credit, CDB has launched a host of green financial products, which feature financial products like bonds created to fund environmental and sustainability projects.
A total of 70 billion yuan in renminbi-dominated green bonds has been issued so far.
The bank has also involved more people in green development by issuing over-the-counter bonds at commercial banks, a CDB representative said.
In April, CDB set an environmental protection campaign in motion. More than 100 counties across the country will be selected to secure loans of 100 billion yuan to build advanced garbage and sewage treatment facilities.
According to CDB, the campaign is expected to cover 1,000 counties by 2025 and the social financing will amount to 1 trillion yuan.
It will inject a new impetus for the environmental management in rural areas, leading to more beautiful villages, a CDB executive said.
International cooperation
As one of the main banks for China's foreign investment and financing cooperation, CDB has followed international practices and market principles, promoting the high-quality development of the Belt and Road Initiative.
Since the BRI was launched, CDB has lent more than $260 billion to projects related to the initiative.
The bank has also played an active role in multilateral financial cooperation and global financial governance.
Eight regional financial cooperation mechanisms have been set up by the bank, including the China-ASEAN Inter-Bank Association, the China-Arab Countries Inter-Bank Association and the China-Africa Inter-Bank Association.
The mechanisms have gathered financial institutions from some 60 countries involved in the BRI, a CDB executive said.
Members of these associations have worked together to support key regional projects, facilitate communication among countries and offer diverse financial services for multilateral cooperation.
To expand international exchanges, CDB has organized a variety of training activities. Meanwhile, a scholarship was established to sponsor excellent young people from BRI-related countries to study in China.
Addressing livelihoods
The bank said it was committed to addressing issues related to people's livelihoods to enhance their sense of gain, happiness and security.
Faced with the sudden COVID-19 outbreak in 2020, CDB put a heavy emphasis on the life and health of Chinese people.
"We rolled out a slew of supportive measures and policies to aid areas, industries and customers hit hard by the pandemic," a CDB representative said.
Statistics show that the bank granted emergency loans worth 31.5 billion yuan in 2020 for epidemic prevention and control. It also lent loans of 211.9 billion yuan to 250,000 small and micro-sized companies.
At the beginning of 2021 when COVID-19 reemerged in North China's Hebei province, CDB's Hebei branch completed the process of granting credit within one day, offering 500 million yuan for the capital city Shijiazhuang's epidemic control.
In February, China announced its "complete victory" in the fight against absolute poverty, which can be attributed to the combined efforts of the Communist Party of China, the governments, the people and various stakeholders in the society.
CDB is among such stakeholders. It made loans of 1.2 trillion yuan for targeted poverty reduction during the 13th Five-Year Plan period (2016-20).
Of the loan package, about 359 billion yuan was allocated to improve industries in rural areas, which helped 460,000 people raise their incomes and rise out of poverty.
Meanwhile, CDB distributed loans up to 382 billion yuan to infrastructure construction, with 310,000 kilometers of country roads and 200,000 drinking water facilities built and 570,000 dilapidated houses renovated over the past five years.
The money ensured the country's 832 poverty-stricken counties overcame poverty as scheduled, a representative of the bank said.
This year, CDB plans to provide loans valued at 400 billion yuan to consolidate the achievements in poverty elimination and boost rural revitalization.
CDB is also dedicated to increasing the affordability of higher education and ensuring fair access for students.
The bank said it has set no limits on the number of borrowers for student loans, and the application is free of charge with no strings attached.
As of the end of May, CDB's financial aid had reached 2,830 universities and colleges approved by the Ministry of Education. About 229.2 billion yuan worth of student loans had been issued as of last year, benefiting 14.77 million students with economic difficulties.
The bank also pays close attention to housing security, granting loans of 4.54 trillion yuan to renovating shanty settlements in urban areas.
More than 23 million households and 100 million residents have enjoyed better and healthier living conditions thanks to the loans, according to CDB.
By taking a market-oriented approach, the bank will continue to support the housing security system and strive to improve people's wellbeing, a CDB representative said.